February 1st. 2015, St. Brigid's Church Killester Dublin.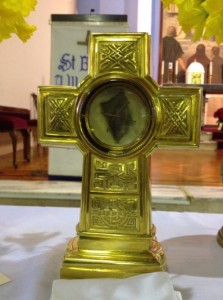 On 1st February, all religious in the Dublin Archdiocese, were invited to a special mass for Consecrated Life in St Brigid's church, Killester. Archbishop Diarmuid Martin officiated. Two other Bishops were present and many priests of the Archdiocese of Dublin. The church was full to overflowing; around a thousand religious attended. A wonderful choir, including a harpist, provided fitting music of well known singers and composers such as Liam Lawton, Donal Hurley, Fintan O carroll, Steve Warner ,and M.A Charpentier.
The Church itself was ideal for the occasion. Above the altar was the large fresco of St. Brigid with Bishop Mel presiding over her profession ceremony. On the nearby table, a first class relic ( part of Brigid's chin) was displayed in a glass case in the shape of a cross. After this ceremony, the congregation was blessed with the relic. One beautiful stained glass window depicted her story, while two other windows threw patterns of striking colours across the wall – yellow , purple pink and blue. The church was built in the 1920's after the 1st. World war, but it looked very new and well preserved.
Archbishop Diarmuid Martin took up the theme of the Gospel, Luke 6 : 32 to 38 on being compassioned and not judging others. He said that the essence of a christian life was compassion and generosity; helping those on the margins, to get a little extra food or education. He encouraged us to put the focus on the needs of others, rather on our own. He explained that the Evangelical Counsels leave us free to be compassionate, especially with regard to recent church scandals and not to judge. Religious must witness to values different from consumerism and show compassion, generosity and joy in their lives,
After Mass, the vicar for religious life, Elizabeth Cotter, quoted Pope Francis when he asked Religious to wake up the world and deeply value our contribution to society. She remarked that St. Brigid had founded her Monastery for women as well as for men, so she was ahead of her time.
St Brigid's secondary school pupils had made 500 crosses for the occasion, but due to the number that attended , we were asked just to take one cross for each Convent or Monastery. Cori will facilitate a banner for Consecrated Life, for those who want one. When mass was ended, we were invited to the Resource Centre for tea and refreshments. All in all, it was a lovely ceremony and seeing the crowds of Religious,(although most of them elderly), gave us renewed hope and courage