On Sunday, May28, the Notre Dame Secondary School leavers of 1977, paid a flying visit to their old Alma Mater.
On the previous afternoon, one of them arrived at our convent to invite the sisters, especially any of them associated with their class, to join them the following afternoon in the Senior School. They had only been permitted to look around for a half hour, after which they would go to this lady's house for refreshments. Sr. Una was the only sister in the community who had taught them Religion for one year in 1971, before being sent on mission to Kenya in 1972.
She was not as familiar with this group, as she would have been with their older or younger sisters, because these girls would have just come over from the Junior School to first year in Secondary School. However, she did recognise a few past pupils, either because they had not changed much in the intervening 40 years, or because hearing their names triggered off certain memories. She knew that Mary O' Neill's father had built the school, that the Galligan's owned a Beauty Salon, that Michelle Coleman had taken some gym classes after school, or on Saturdays, that one of the Healion twins had fallen into the fish pond while in Kindergarten and that Catherine O' Keefe's mother,R.I.P.  had been a staunch member of our prayer group.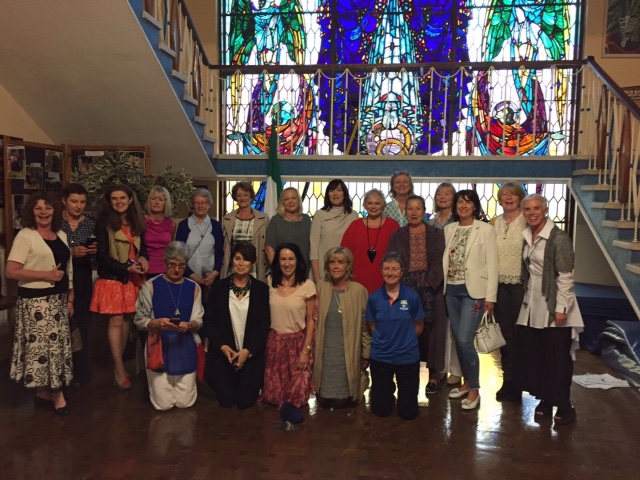 At 5.oopm, Una, Regina and our three Vietnamese sisters, Linh, Hai, Thuy and a friend called Grace , had made their way to the school. It was raining, so Regina and Una went by car while the others preferred to walk the short distance. The school grounds left a lot to be desired, but the interior of the building was painted, polished, and its walls covered with interesting paintings and photographs. There were few noticeable changes in the 40 years. The biggest were the wooden floors of the hall and the corridors, which were several shades darker than they had been long ago.  Also, the tennis courts changed into a green grassy lawn. The past pupils were ecstatic with excitement, as they greeted one another. They chatted and laughed, some climbed the bars in the gym hall and took photos of everything and everyone. Some were surprised to find that Sr. Robert had now become Sr. Una! They expected to find someone who looked older and less agile! The Deputy Head, Ms O' Rahilly, allowed them to go around the school, in and out of rooms, up and down stairs. The half hour stretched into an hour, before they returned from their explorations. Group photographs were taken, on, and under the balcony in front of the beautiful big window of Our Lady. It was a nostalgic reunion, and perhaps the last, there, because the school is now owned by the Government and will house a different school in two years time. We declined to follow the group for refreshments because our own tea was waiting for us over in the convent.