The Year of the Buffalo/Ox
1901, 1913, 1925, 1937, 1961, 1973, 1885, 1997, 2021: a born  leader, you inspire confidence from all around you. You are conservative, methodical and good with your hands. Guard against being chauvinistic and always demanding you own way. The Buffalo would be successful as a skilled surgeon, general or hairdresser. Some famous Buffalos: Napolean, Van Gogh, Walt Disney, Clark Gable and Richard Nixon and MAYBE YOU!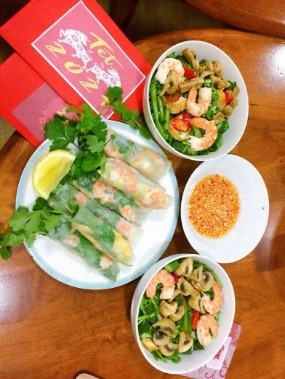 The three communities in Wealdstone gathered for a special dinner prepared to celebrate Chinese New Year with our Sister from Hong Kong, and TÉT, the Vietnamese New Year, with our Vietnamese Sister.  The dining room had both Chinese and Vietnamese decorations for the occasion, and as we gathered, we sang the blessing before our meal in Vietnamese!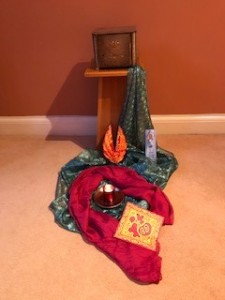 For the next four days there was a special intention in prayer and celebration:
Peace and harmony in the country.
The celebration of Eucharist in the cemetery in remembrance of their ancestors.
For a good harvest in the New Year and for the farmers and workers.
Catholics pray for the priests and Sisters in families and in the country.
LUNAR NEW YEAR – Lucan (Ireland)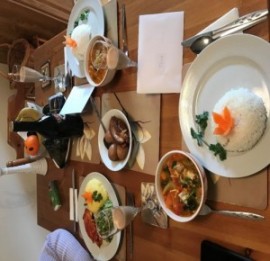 We started our celebration of the Lunar New Year with the Eucharist, which was pre-recorded in the Cathedral in Ho Chi Minh City (as Vietnam is seven hours ahead of us). It was a very prayerful celebration and the floral decoration in the Cathedral were absolutely stunning. After the Mass, we had a celebratory dinner when the Sisters received their "lucky money."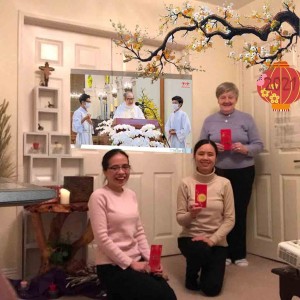 The local Vietnamese Community had given us Vietnamese food for our celebratory dinner. I won't try to explain the meaning attached to some of the foods but as you will see from the picture there was a little bit of Irish thrown in with the Baileys!
Photos with permission – © RNDM Community