I sit writing this reflection as nature is battling with the so called "mini beast from the east." We have already had the "big brother" with its piercingly sharp teeth biting and devouring all the long-awaited, vulnerable, luscious signs of spring, which had filled us with such a hope and expectation. And today is the Sunday when Christ points to the allegorical "grain of wheat" which must be buried and die before its life and all its beauty and goodness can burst forth.
Of course, Jesus was talking about himself, trying to show us that death is but the beginning of life – that nothing really dies, Nature is the glorious reflection of the blossoming eruption of the glory of Easter Life- God's life, which we see and share even now. GOD IS ALL IN ALL – in the vastness of the seas, the stretches of golden sand; the freshness and soothing power of green grass; the timelessness, strength and protectiveness of tress; the joyous songs of birds, the blazing glory and colour of myriad flowers and plants and the wonder of all living creatures.
Bernadette Farrell captured all this in her hymn: God Beyond All Names
"All around us we have known you…All creation lives to hold you . . . "
Bernadette Farrell©1990, OPC Publications
There are so many poets who have expressed the intensity of this experience of finding God in nature, one of my favourite being Joseph Mary Plunkett's:
I see the blood upon the rose, and in the stars the glory of eyes . . . "
Rising Poems: Reading 1916
A quote from Ibn Arabi:  "God sleeps in the rock, dreams in the plants,
stirs in the animals and awakens in man!"
AZ Quotes.com Website, March 2018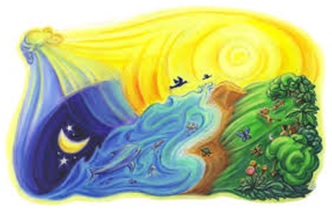 God in Creation – Sr Yvonne Pepper, Rndm
STONES: so still, so silent and so strong,
are the resting place of God.
God sleeps in their very soul and hiddenness.
We tread on stones, breaking
and carving them into other shapes,
but reverently, gently, worshipping the presence within.
 PLANTS: Passionate reds and purples, delicate, sensitive pinks and blues,
myriads of shapes and sizes and hues.
Leafy foliage to protect and shade,
breathtakingly radiant, inspiring love and joy.
Of all this beauty the dreams of God are made.
Tread softly on these precious dreams,
and pass not blindly by.
ANIMALS: Enormous, minute, wonderfully made
by a living, vibrant, tireless God.
In them God moves to openness and freedom
fulfilling the desire of their Creator
To bring about life and movement:
"the rhythm of life is a powerful beat."
Let us join the dance!
HUMANITY: Only in humanity does God really awake.
Love awakens in Him the compulsion
to gift us limitlessly.
"The earth is full of the Glory of God!"
And we, the children of the earth,
bound to it intrinsically, irrevocably,
awake to embrace it and be transformed.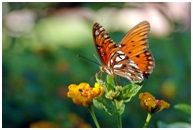 PRAISE HIM