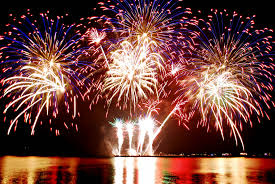 Another fresh New Year is here
Another year to live!
To banish worry, doubt and fear.
To love and laugh and give!
This bright New Year is given to me
To live each day with zest . . .
To daily grow and try to be
My highest and my best!
I have the opportunity
Once more to right some wrongs
To pray for peace, to plant an tree,
And sing more joyful songs!
Anon
These words capture all we long for as a New Year begins. Yet as soon as the fireworks fade and disappear we tend to forget the promises and desires we make for a new beginning as we often are weighed down with worries and concerns that we carry with us year after year. There is no harm in holding on to some aspects of the past because that is where our heart and memories of good things and people are, but we have to move on – and allow this New Year to make changes within us, to let go of all that is unnecessary for us to branch out and make new choices and take new steps, even those that might require risk.
Happy New Year and let's move forward to make 2018 our best year yet!