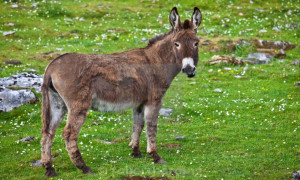 It had been a day of interacting with many people and I felt the need to withdraw to a wordless place!  It was springtime and I walked down the bóithrin - bohereen, (unpaved rural road in Ireland). There was a soothing silence, a calm just to 'be' in the moment, to inhale the fresh breezes, and breathe the rugged beauty of the Cooley Mountains in the distance and there, just over the hedge, a donkey.  We held each other in our lingering gaze.  The rhythm and pulse of the universe within us and between us. Silence! That 'thin place' where the veil between this world and the other world held the mystery of it all!  A Gift for NOW!
My rational mind was stilled by a Presence. No words touch mystery.  The donkey included me in its gaze and a silent bond was held between us in the fresh breath of the Cooley Mountains!  We just gazed at each other! Words were too feeble for moments like this!
"Contemplation is a gaze of faith" said Pope Francis!  'Gazing' is the heart of contemplation. Slow down, pause; be in the moment with openness and inner hospitality. You may remember the story about St. John Maria Vianney who asked an old farmer what he did in the church looking at the tabernacle. The farmer responded, "Nothing, I look at Him, and He looks at me." That gaze of the donkey meeting my gaze was a sacred moment. In his Pastoral Letter for the Season of Creation, 2021, Archbishop Dermot Farrell says: The interplay between creation, the person and the Creator is dynamic and ongoing. All three are interwoven: the manifestation of God's power and beauty in nature, the opening of our eyes and ears and God's unique word to us in the intimacy of our hearts. The cosmic in all its vastness and the personal in all its intimacy are woven together in one outreach of the Creator to all that he has made. Our response, indeed, our call is to be in a place where the mystery of God can unfold." (The Cry of the Earth – The Cry of the Poor: The Climate Catastrophe Creation's Urgent Call © A Pastoral Letter for the Season of Creation, Veritas, 2021).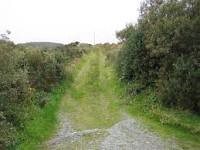 An echo of one of the verses of Sr Miriam Therese Winter's sings in me:
When I walk through a wooded grove and admire nature's art,
I can feel her weave her wisdom on the webbing of my heart.
I can hear her invitation to be part of all I see
Then I know I have known . . . mystery.
Mystery, in Woman Prayer, Woman Song© Medical Mission Sisters, 1987.
Margaret Doherty, RNDM