The glories of Mary have been enshrined in the heart of the Church; she is part of scripture and of the liturgy. She has been honoured in Arts, Poetry and Song; she holds a secure place in the hearts of the faithful; she is the greatest of all saints, the sinless one born without original sin and indeed free from sin throughout her entire life. She serves as an outstanding virtue of faith, hope and love for God and others. Mary is called Mother of God, Queen of Heaven, Star of the Sea and many other titles and has been depicted in thousands of images in the history of the Church. This is simply because, in her obedience and openness to God, Mary was the first and most faithful disciple of her Son, Jesus Christ.
Our Blessed Mother is the perfect model of religious life. At the Annunciation, Mary was a model of obedience. She was unhesitating in embracing God's will for her; what mattered was that God wanted it. The question is not, "What's in it for me?" or, "How will this affect me in the long run?" The only question is, "What is God's will?" finding peace and freedom in embracing his will. By virtue of her vows, when anyone strives to follow Mary's example, they will experience the true freedom for which they are made, a freedom found in the heart of God.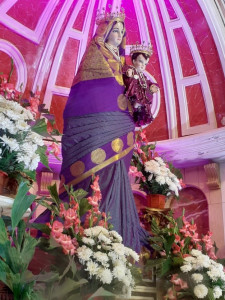 Mary, Mother of Sorrow whom the Church commemorates is also a reminder of her seven main sorrows she endured among the many to bring about God's plan of salvation. Her sorrow is a reminder that Mary understands our sufferings, for she has endured it all in her life and she accompanies us in our sorrow and intercedes on our behalf for the graces to carry our own crosses.
I like to say that Mary is the proof of God's Presence amidst us. Her Immaculate birth has been a grace and we can give many meanings to her presence; she lives with us in our times of joy and sorrow and invites us to share and reveal God's presence to others.
This is the statue of Mary I often visited in my home town Bangalore. (Photo with permission)  
Joyce Peter rndm