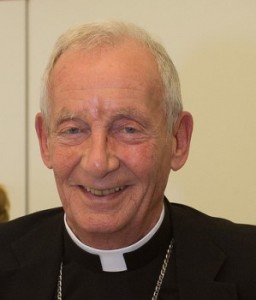 It is with sadness we have learnt of the sudden illness and death of Archbishop Peter Smith. For some years Archbishop Peter has been the postulator for the Cause of our Foundress, Euphrasie Barbier for his diocese of Southwark. His support and contributions have been gratefully received and we will miss a great advocate for Euphrasie's Beatification. On behalf of the whole Congregation of Our Lady of the Missions we extend to the Diocese and to Archbishop's family, colleagues and close friends our condolences and promise of prayers for his welcome to his well-deserved home with God.
Other comments taken from the Tablet and Website (March 9, 2020)
In a statement the Bishops' Conference of England and Wales said: "Archbishop Peter Smith, Archbishop Emeritus of Southwark, died peacefully just before midnight on Friday, 6 March. May he rest in peace and rise in glory".
Archbishop John Wilson writes:
It is with great sadness that I write to inform you that Archbishop Peter Smith, our beloved Archbishop Emeritus, died peacefully just before midnight yesterday, Friday 6 March 2020, at the Royal Marsden Hospital, Chelsea.
Archbishop Peter had received the sacraments and prayers of the Church, and his former secretary, Fr Philip Glandfield, was with him when he died. I was able to visit him earlier that evening, together with the Vicar General, Mgr Matthew Dickens, and the Hospital Chaplain, Fr Joseph McCullough. Mr John Toryusen, the Director of the Archdiocese of Southwark Youth Service, accompanied Archbishop Peter during his illness and his time in hospital. Archbishop Peter was visited in hospital by family and friends, and by Cardinal Vincent Nichols, the Archbishop of Westminster.
Archbishop Peter's illness progressed very quickly following his diagnosis of cancer just a few weeks ago. He was a much loved brother, uncle, and friend; a priest of the Archdiocese of Southwark, Rector of St John's Seminary, Wonersh, Bishop of East Anglia, Archbishop of Cardiff and Archbishop of Southwark until his retirement in July 2019. While Archbishop of Southwark, he also served from 2014-2015 as Apostolic Administrator of the Diocese of Arundel and Brighton. So many good wishes have been passed to him in the past few weeks, and prayers and Masses offered. Thank you for all of these.
Our gift to Archbishop Peter now is to pray for the repose of his soul, and to remember prayerfully his family, friends and loved ones at their time of loss.
Please pray for Archbishop Peter in your parish intercessions at the Masses this weekend and also offer Mass for him as soon as possible. I would be grateful if you could let any religious in your parish know of Archbishop Peter's death, and also ask the prayers of your parish and school communities.
In a ministry that spanned almost fifty years, Archbishop Peter made an outstanding contribution to the Catholic Church across three dioceses, and nationally through his service on the Catholic Bishops' Conference of England and Wales. Most importantly, he was a disciple who witnessed to Christ with straightforward, splendid faith and radiant joy. Together with the other dioceses in which Archbishop Peter served, we mourn him with enormous affection and deep gratitude for all he gave so willingly and selflessly to so many people.
We are grateful for the care Archbishop Peter received from the staff at the Royal Marsden Hospital.
We now entrust our friend and brother to the Lord whom he served with such faithfulness, generosity and gentleness. May Archbishop Peter rest in peace and rise in glory.
More information about the funeral arrangements for Archbishop Peter will be forthcoming, along with more comprehensive appreciations of Archbishop Peter's life of service.
May the saints and angels welcome him to paradise.
Yours devotedly in Christ
+ John
Most Rev John Wilson