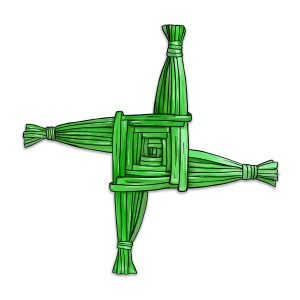 St. Brigid's feast on 1st February, was originally a pre Christian Celtic festival called Imbolg, which ushered in the soft balmy weather of Spring. At the centre of Celtic Spirituality, Brigid offers us an ancient awareness that connects with our feminine, intuitive and creative aspects and is vital for the world of our time "as we search for right relationship with the environment, with the self and with others" (Padraigin Clancy, graduate in Irish folklore and History)
St. Brigid was born on February 1st c 451 at Faughart, near Dundalk. She was the daughter of Dubthach, a wealthy Leinster nobleman and Brocessa, his beautiful slave girl. Dubthach selected a suitable husband for Brigid, "a man of chaste life, a poet" but Brigid defied her father and chose Religious Life instead.
She became a familiar figure in Kildare, setting up convents, freeing captives and counselling the great. She commanded respect and affection and is remembered for her hospitality and hard work. In the words of the writer, Mary Hogan, Brigid was "a powerful personality who appealed to all, from those on high to the humble beggar" She was a woman of God and a woman of the people.
Much of the lore surrounding St. Brigid, was influenced by a pre Christian goddess tradition, so when we study Brigid, we are studying the heart of Celtic spirituality. The fact is, there were two Brigids. The first was a pre Christian feminine goddess, whom poets adored. This Briggida was seen as the life-force within all natural things and connected with earth, air, fire and water. She was the goddess of New Beginnings – of Spring, with all its freshness and growth. The second Brigid was our saint of Kildare, who was so well respected, that gentlemen and nobles called their lovers " Brides," a custom that still exists! Apart from holy wells, place names and commemorations, two particular traditions stand out. The tradition of the cloak of Brigid hardly survives. Families hang out a washed handkerchief overnight on January 31st, which they believe will bring healing and protection throughout the year. The second tradition of making Brigid's crosses, (which she used for instructing pagans) still exists and they hang in many Irish homes and animal outhouses. Brigid is patron saint of chicken farmers, blacksmiths, seamen, poets, healers, fugitives, midwives, and new-born babies.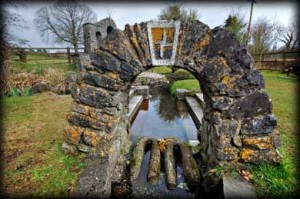 At her Religious Consecration, Brigid was ordained as a bishop, by Bishop Mel. When questioned about it, later, Mel said he had no control over his words at the time and that the dignity of a bishop had been "given by God unto Brigid beyond every other woman" In this way, Brigid became Ireland's first female bishop.
When she died in 525 AD, Brigid was first buried in her own church in Kildare. Later, for greater safety from Norse marauders, her remains, together with those of Patrick and Colmcille were interred in Downpatrick. Finally, her head was brought to Portugal and buried there. Whether true or false, St. Brigid is said to have restored the dead to life, healed the sick and made the dumb speak. She lit a fire in Kildare, which has never been extinguished to this day and lived through the transition from pagan to Christian Ireland. Brigid overflowed with the compassion of Christ and was a reflection of his mother, Mary. No wonder she is known by the title "Mary of the Gael" A traditional blessing is:
"Brat Bríde oraibh ar fad" (May the mantle of Brigid be on you all)
Sr Una Rutledge, RNDM