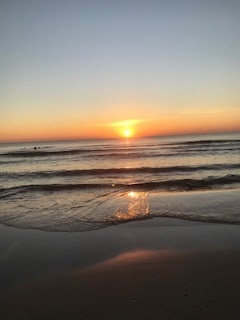 In 2018, Khaled Hosseini produced a very beautifully illustrated book called Sea Prayer written in the form of a letter from a father to his son Marwan as he cradles him in his arms on the eve of their long treacherous journey from Homs, Syria, to escape a deadly war zone for safety. This journey would involve crossing many countries and eventually a long sea journey to the coast with a safe landing anywhere that will receive them, where he believes that he and his son would seek a new home, peace and harmony. He recites his memories of the City of Homs to his son, remembering peaceful times with Muslims and Christians praying side by side in their respective places of worship, the crowded markets and alleyways and smells of fried kibbeh. As he stands on the shore awaiting a boat to carry him to safety, all these memories seems like a dream "like some long-dissolved rumour."
This rendering of a prayer to his son Marwan is in memory of a three year old Syrian child, Alan Kurdi, who in 2015, was washed up on the shores of the Mediterranean Sea. He and his mother lost their lives trying to escape the same situation, war and a broken society. The world was shaken by the images of the lifeless body of Alan and many were resolved to make changes to the acts of immigration, but how quickly we lose sight of our immediate reactions to such a tragedy. Just recently, we read of the hundreds of women and children who lost their lives again off the coast of Greece. It made news for a few days and now forgotten.  As Hosseini wrote in 2018, he sums it up by telling his son:
"I have heard it said we are the uninvited,
We are the unwelcome, 
We should take our misfortune elsewhere."
Last week we celebrated Refugee Week, where many Charities throughout the UK are involved and committed in welcoming the "uninvited." Jesuit Refugee Services in London make the "misfortune" of these people their business and concern both legally and in accompaniment. One refugee wrote: "The important thing about JRS is their approach – you feel relaxed and are accepted among them. There is an open door of welcome."
Many of us have our own thoughts about immigration and the increasing number of boats that arrive on our shores. Reading Hosseini's Sea Prayer puts another dimension to the reason for movement of so many people today and their own personal story and loss. Many of us, after a busy and tiring year, can take a holiday and travel overseas to brighter places and sun. We can return home, but so many who seek better places and peace, can never return to their home, or country, this is the real meaning of: why immigration?
Sr Rose Mary Harbinson, RNDM
Text taken from Sea Prayer, by Khaled Hosseini Foundation, Bloomsbury Publishing, 2018.
Photo:© Rose Mary Harbinson