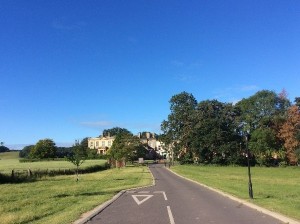 It was not by chance that the Catholic Missionary Union decided to use Hothorpe Hall, near Market Harborough, for their venue for a retreat to be held for teachers, chaplains and RE coordinators. This particular site appears in the Dooms Daybook (1086) and the manor has passed through the hands and lives of many famous families, including the Catholic family of Charles de Trafford in 1892, so this building certainly gave a remarkable historical background to our two days of Reflection on Mission and Education for Mission. The Georgian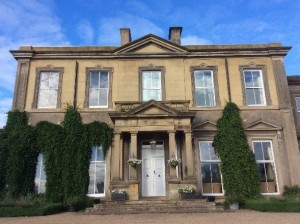 manor house near Market Harborough lies deep in the  forests and hills of the old, almost hidden village of Hothorpe, that once was the under the control of a feudal overlord, at the time of Henry III ( 1216-1272). During its history the manor was part of the Spencer Estate of Althorp and Lord Spencer still has connections with the estate today.
It is easy to see various historical designs and evidence of Elizabethan and Jacobean architecture, but the recent hall that is presently in use is dated around 1788.
In the chapel built in 1892 we celebrated the Eucharist and you could feel almost the presence of many years of prayer and tested faith that has penetrated the walls. The very grounds echoed the gospel message, of hope and mission. Each tree has a message as you enter the forest area for reflection and prayer: "Each day is a brand new opportunity to be JESUS to the world" (R. Falcon). As we reflected on Evangelii Gaudium: The Joy of the Gospel, we felt united with so many people of faith who have been part of this place over the centuries. This was for us a true call to be Spirit-filled evangelizers, especially for our teachers who in many cases first bring the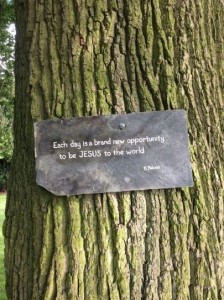 gospel to life for many young people today. The words of Pope Francis was truly on our lips as we prayed: I am mission on this earth that is the reason why I am here in this world. We have to regard ourselves as sealed, even branded by this mission of bringing light, blessing, enlivening, raising up, healing and freeing. All around us we begin to see nurses with soul, teachers with soul, politicians with soul, people who have chosen deep down to be with others and for others. (EG, 273).
Let us pray for all educators, for our schools and those who are engaged in any form of education and Christian formation here in our country and overseas.
Rose Mary Harbinson, RNDM