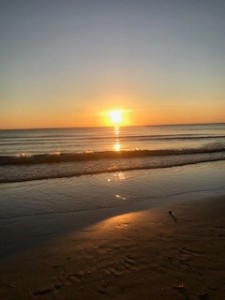 After two months of dealing with this new and unprecedented way of living – it is good to look forward to "new rays" of hope – to see what could possibly be positive in this time of uncertainty.
Just think: our communications with people have never been so intense and regular as it was this time last year! Even TV Church services have been a source of great renewal and for some, a conversion to another way of coming to the Lord in time of need. Our shared signs of mourning and tears of joy to celebrate those who survive, national appreciation for those who care of us, are signs of hope that holds us as one.
This hidden microscopic virus which can do such catastrophic damage on a vast scale can be beaten! The wonder of so many people around the globe working together on a common cause – to solve the secret of how one single cell can overtake our destiny, is unprecedented in our world history! As with each new day, despite all the calamities that befall us, the sun always rises with rays of hope, sometimes not seen but always there. This is the promise of our loving Creator who has declared through his Son:  "I am with you always, until the end of this world".
New Rays, A poem by Sr. Una Rutledge, RNDM
A microscopic virus, increasing in intensity
Challenges our claims to be superior beings
In charge of our destiny.
We look beyond fears, to new ways of living
As the certain finality of our present reality
Leads to greater giving.
Tapping into creativity offers more scope
In caring for others, our sisters and brothers
Finding new rays of Hope.
Acknowledging God, in every land
As caring for all, the great and the small
Holding each one in the palm of His hand
Sr. Una was born in Boyle, Co. Roscommon, a Sister of Our Lady of the Missions, has had stories published in Ireland's Own and broadcast on Sunday Miscellany, also poems published in anthologies.