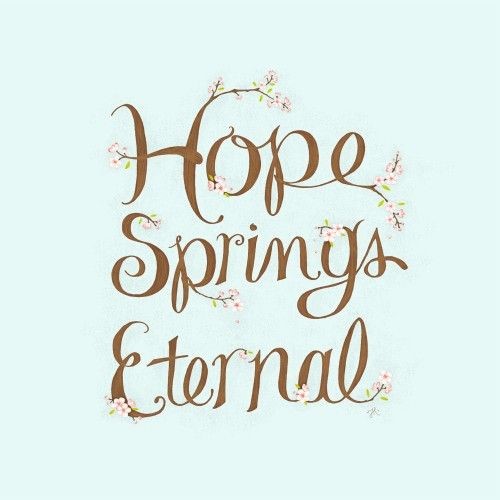 Spring symbolises new beginnings and transformations. It brings the possibility of fresh starts, of new life. Most of us acquire an added spring in our step and become "full of the joys of Spring." We are told that "Hope springs eternal" and this happens particularly, when warm winds sooth our weary bones and long sunny days, blooming flowers and happy bird song, lift our spirits and renew our hope, physically and spiritually.
Of course, true hope can only come from God, from trusting Him even in our most difficult moments. As we know, God has a plan for each one of us" a future full of hope" Easter brings hope, joy and victory. Christ's resurrection gives us the hope and assurance that as He overcame death, so we too will rise from the dead. In this world many people tend to put their hope and trust in material things such as money, property and their own ability. These may bring a measure of pleasure, security and satisfaction, but they are limited and do not result in the real lasting joy, peace and assurance that comes from hope in God that is able to transform evil into good. Hope is unseen. Only spiritual and metaphysical realities can be trusted. St Paul says hope that is seen is not hope and again that "hope will not disappoint us." When we put our complete trust in God, He guides us along the right paths, without our needing to hope for specific things, just as he causes day to follow night and the seasons to follow one another.
The benefits gained from true hope are too numerous to mention all of them. It empowers us, gives us greater quality of life, frees us from stress, improves our mental and physical health and encourages us to positive action. In this way, it gives us a reason to get out of bed in the morning, not only to face another day, but to greet it as a welcome gift from God.
Hope is one of the theological virtues, which makes us desire heaven as our goal and happiness, causes us to place our trust in God's promises alone and to rely on the help of the Holy Spirit to fulfil God's will. Never was hope needed as much as in our fractured world of today, when greed and desire for power lead to wars, famine, floods, destruction of creation, suicides and our inhumanity to others. We long for peace, but our actions so often destroy any hope of it.
"May your love be upon us, O Lord, as we place all our hope in You." (Psalm 3)
Pope Francis said that: "Hope is contagious" so by exercising true hope, we can change, not only our own mentality, but that of others and help them to increase their sense of self-worth and self-confidence, thus sending beneficial effects throughout the world. Hope is not instantaneous; it involves waiting. As the song "Whispering Hope" goes,
"Hope for the sunshine tomorrow 
after the showers are gone."
Sr Una Rutledge, RNDM
Image: EOL System- website, 2023.
See – Whispering Hope. Lyrics: Alice Hawthorn/Domencia Savino ©Bluewater Music Corps. Sung by Jim Reeves.