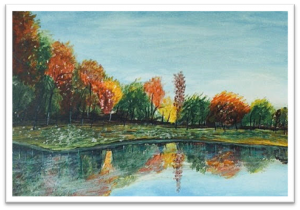 With the end of summer time upon us, we enter the "royal" season of Autumn – royal because of the  magnificence of colours and a time when nature "disrobes the glory of summer" when it takes on the colours that basically soften the end of its reign of lively, lush greens to the soft yellows, reds and gold. This is a time of transformative spectacles, a form of completion and accomplishment when nature's fruits and harvest has now been reaped. The harvest blessings and festivals have long gone and it is time for rest and to move into the "ebb and flow of life." These beautiful colours will soon fade and make their final decent to the ground to be give food to the hidden life within the soil, so not all is lost!
"In this season when the dance of surrender is obvious, we find large spaces left where something beautiful once lived."
Many of us can resonate with this, as during these times we have lost loved ones and experienced loss in various ways dealing with an unknown virus that has captivated our world. November allows us this time to reflect on what has been – When we walk through fallen leaves and see that once they adorned our world and made an impact on us – let them tell us of the power they still have to energise the soil and that the spirit of those we have lost are still engaging in our world.
"Maker of the Seasons, thank you for all that autumn teaches me. Change my focus so that I see not only what I am leaving behind, but also the harvest and the plenitude that my life holds. May my heart grow freer and my life more peaceful as I resonate with, and respond to, the many teachings this season offers to me." (Joyce Rupp & Macrina Wiederkehr – The Circle of Life, © 2005)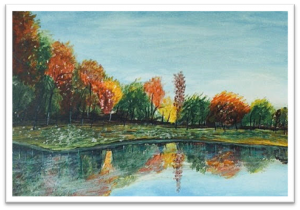 Autumn is the gradual fading out of Summer and the gentle introduction to winter, symbolised by its crimson and gold leaves. It is the time for harvesting and foraging, for gentle mists and seed dispersal when clocks go back and the world is enveloped in mysterious beauty.   Poem by Sr Una Rutledge, RNDM – Painting by Sr Thanh Thuy, RNDM
Last array of gold and crimson leaves
 Ivy flowers drawing butterflies and bees.
   Telegraph wires where lines of swallows sway,
 then take their flight to countries far away.
Lush blackberries on bramble bushes shine,
even fungi thrive at Autumn time.
       Gathering conkers when the chestnuts fall
Every kind of wild fruit free for all.
   Maple leaves all twirling in the air.
Seasonal mists and beauty everywhere.
Rose Mary Harbinson, RNDM