This wonderful feast loved by so many is celebrated on the third Friday after Pentecost. "It celebrates the one divine and human Christ from the standpoint of his love for humankind, a love symbolised by his heart. It is therefore a devotional celebration that has as its object Christ's love for us rather than any specific salvific act." (The Key To Faith, Adolf Adam, 1990).
Many have written about the Sacred Heart but this month let us meditate and reflect on the following:
O most Sacred Heart of Jesus, model our hearts on your own. Fill our hearts with kindness for all we meet; make us compassionate toward the sick and the disadvantaged, and ready to help anyone who has a heavy cross to bear. Keep our hearts free from every form of egotism, open or concealed. May our hearts strive to become messengers of your gospel and to smooth the path for your salvation, O redeemer of the world.  Gotteslob, Katholisches Gebet und Gesangbuch (Stuttgard: Katholische Bibelstalt, 1975) 780.
Meditation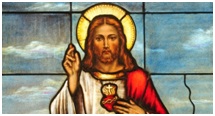 I am so tired of myself.
I become disheartened
when I dare how much resistance is at home in my heart,
O my God, against you.
How much evil lurks in me, even if much of it rarely breaks the surface,
how much indifference, how much incapacity for a loving surrender:
Often I dream, O Lord, of a new heart.
I would like a heart in myself that loses itself entirely in you,
a heart that burns for you and seeks to do your will,
a heart full of trust, a heart that has room for the suffering,
that does not wall itself up from anxiety but dares to accept its vulnerability
because it lives out of your saving love,
a heart that in the midst of clamour can hear your voice;
a heart in which your praise lives.
Let me not become too tired, my God,
to ask for such a heart from you.
Sabine Naegeli Da hast mein Dunkel geteilt 9th ed. (Freiburg: Herder, 1990) 106.
See The Key to Faith: Meditations on the Liturgical Year, Adolf Adam (Liturgical Press, Minnesota) 1998.