The other Sunday I listened to "Something Understood" on Radio 4. The theme was on abstinence. The programme ended with a favourite poem by Robert Herrick written in 1648: To Keep a True Lent.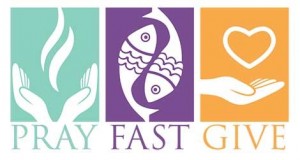 Is this a fast to keep
The Larder lean?
From fats of veals and sheep.
Is this to quit the dish
of flesh, yet still
To fill
The platter high with fish?
Is it to fast an hour,
Or ragg'd to go,
Or show
A downcast look and sow?
No; 'tis a fast to dole
 Thy sheaf of wheat,
And meat,
Unto the hungry soul.
It is to fast from strife,
From old debate
And hate;
to circumcise thy life.
To show a heart grief-rent;
To starve thy sins
Not bin;
And that's to keep thy Lent.
Works of Robert Herrick Vol II –  Alfred Pollard, ed. London, Lawrence and  Bullens, 1891, p 240.
So now we are in Lent and this poem makes us think again about what Lent is about. Many of us make promises and challenge ourselves to "give" something "up"! Eat less, etc. but it doesn't often last. As Herrick suggests we don't "close down" just for show but to "open up" and give with the heart.  In giving to others often can feed our own hunger, a hunger of the soul.  "To starve thy sin, not bin" is a great challenge. Seeing that this poem was written in the 17th century is quite remarkable. Many centuries after we are still thinking of Lent as a time of fasting from food, drink and vices. Yet in his poem we see some elements of a modern day theology where he talks about feeding our souls with love and prayer, with a "heart grieve-rent."  Surely this is food for thought!
Happy Lent!