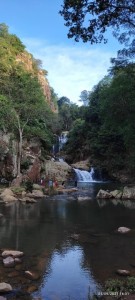 I would like to reflect on our devotion to the Sacred Heart as we are in the month of June.
My family instilled in me this devotion from my childhood, we were a joint family and every evening we gathered for prayers lead by my grandmother. I remember the room was filled with statues of Jesus, Mary, Joseph, St. Anthony and holy pictures of saints, there was also a special altar enthroned to the Sacred Heart. It was a wedding gift given to my mother from her parents; a red lamp is always near this picture day and night. Even now, the lamp is lit though no one lives in our house at the moment. My grandmother donated a silver crown and red velvet mantle for the statue of the Sacred Heart in our parish church and she always made sure we lit candles and placed flowers on Fridays at home and in the parish church and every First Friday to consecrate our lives with a special prayer. We also placed a bowl of fresh crystal salt near the picture, this tradition still continues by my siblings. Why salt? This is the explanation my grandmother gave.  In Matthew 5:13, Jesus Christ tells us "You are the salt of the earth." As His creation, we are to enhance the beauty of the world around us.  To be salt and light, our presence is designed to uplift, enhance, bring light and glorify God not to destroy or harm others. It was our very essence to be salt and light.
When I came to the convent we continued to grow in our devotion to the Sacred Heart, even the very name of our Foundress and the reason she chose her name, and how she mentioned the Sacred Heart in her letters to the sisters meant much to me; I quote below:
From the beginnings of Euphrasie's consecration to God, in choosing her religious name Marie du Coeur de Jésus understood that knowledge of Christ's love has its source in his Heart. (Straight is my Path by M. Bénédicte Ollivier, pg 45).
May the most gentle and holy Heart of Jesus be ever the bond uniting all the members of this Institute, which is His in every sense. And may our meeting place be there, in that blessed sanctuary of the most Holy Trinity until we meet together again in the glory of God our Father, in holy unity with the Spirit of pure love, in the happiness of Eternity. (Euphrasie Barbier to the Sisters in NZ, Pukekohe, 8 September, 1866).
There in the Sanctuary of his Heart, He will hold us together united in Living his life and in being entirely one with Him, with the Father, in the Spirit. (Straight is my Path by M. Bénédicte Ollivier, pg 47).
I also learned later the origin of the devotion in the Church:
St. Marguerite-Marie Alacoque, a 17th-century French nun and mystic, helped spread devotion to the Sacred Heart through her visions in which Christ expressed his desire to reveal his loving heart to humankind. "I need nothing but God, and to lose myself in the heart of God" (M. M. Alacoque taken from azquotes.com)
I would like to quote Pope Francis and his devotion to the Sacred Heart: "I invite you to discover the riches that are hidden in the Heart of Jesus, to learn to love God and your neighbor."  (17 June, 2020 General Audience)
So to conclude, I say the love of Jesus has always gathered us and so I desire that we may live this immense love in joy. Facing the endless and fearful violence of war, abuse of all kinds and a profound disrespect for human life, our world will soon find hope, love, healing and peace through the Sacred Heart of Jesus.
I would like to remind us of the powerful Memorare to the Sacred Heart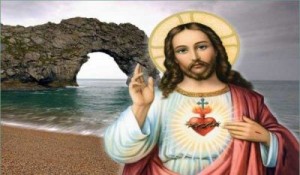 Remember, most kind Jesus,
that no one was ever abandoned
who had recourse to your Sacred Heart,
implored its help, or called for mercy.
Filled with this confidence, Divine Heart, ruler of all hearts,
we come to you, oppressed beneath the weight of our sins.
Do not reject our poor prayers, but listen to them mercifully,
and be pleased to answer them. Amen.
MOST SACRED HEART OF JESUS, WE IMPLORE THE GRACE TO LOVE YOU DAILY MORE AND MORE
Photos: Waterfall – with permission and Sacred Heart – Google.
Sr. Joyce Peter rndm