On Wednesday, 21 October, Missio, Mill Hill Missionaries and the CMU (Catholic Missionary Union) were pleased to host the second conference on Catholic Mission in Today's World at Heythrop College. The Specialist Philosophy and Theology College of the University of London
The theme was Dialogue between North and South: What we can learn about mission and interfaith.
The keynote speaker was Prof. Lamin Sanneh, from D. Willis James Professor of Missions and World Christianity at Yale Divinity School and Professor of History at Yale University, and responses were made by Archbishop Kevin McDonald and Fr Paul Richardson.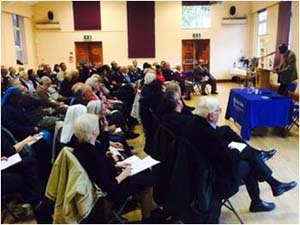 Srs Margaret Doherty, Liz Hartigan and Rose Mary Harbinson attended the conference. It was a great opportunity to meet old friends and familiar faces from various associations related to Mission Appeals, (CMU) Mission Awareness in parishes and Inter-Church groups – Missio and St Joseph's Missionary Society (Mill Hill).
A notable book by Lamin Sanneh available from Redemptorist Publications: Translating the Message: The Missionary Impact on Culture was the basis of his address. The trademark of a missionary life is a passion for Jesus – a passion for his people. Sanneh presented a theological reflection on society since Vatican II and on the Islamic influence of recent years on the west. As a Muslim convert to Christianity, he offered a very profound and in-depth understanding of the Muslim mind and how Islam and Christianity can share a common goal for the good of all. He used his own African culture and proverbs to stress his concerns for the west and the ever increase of individualism in our world today: If you want to walk fast you walk alone. If you want to walk far- you walk with others.
See the full talks of Prof. Kamin Sanneh on following pages.
Prayer for Mission
God of all peoples,
You call us together in love and send us out on mission
to share the gift of faith that all may know Christ.
May we be effective messengers of your Word,
bringing the compassion of Christ, the Light of the World,
to all who are poor and marginalised.
We ask this through Jesus Christ.
Sr. Rose Mary Harbinson, Rndm